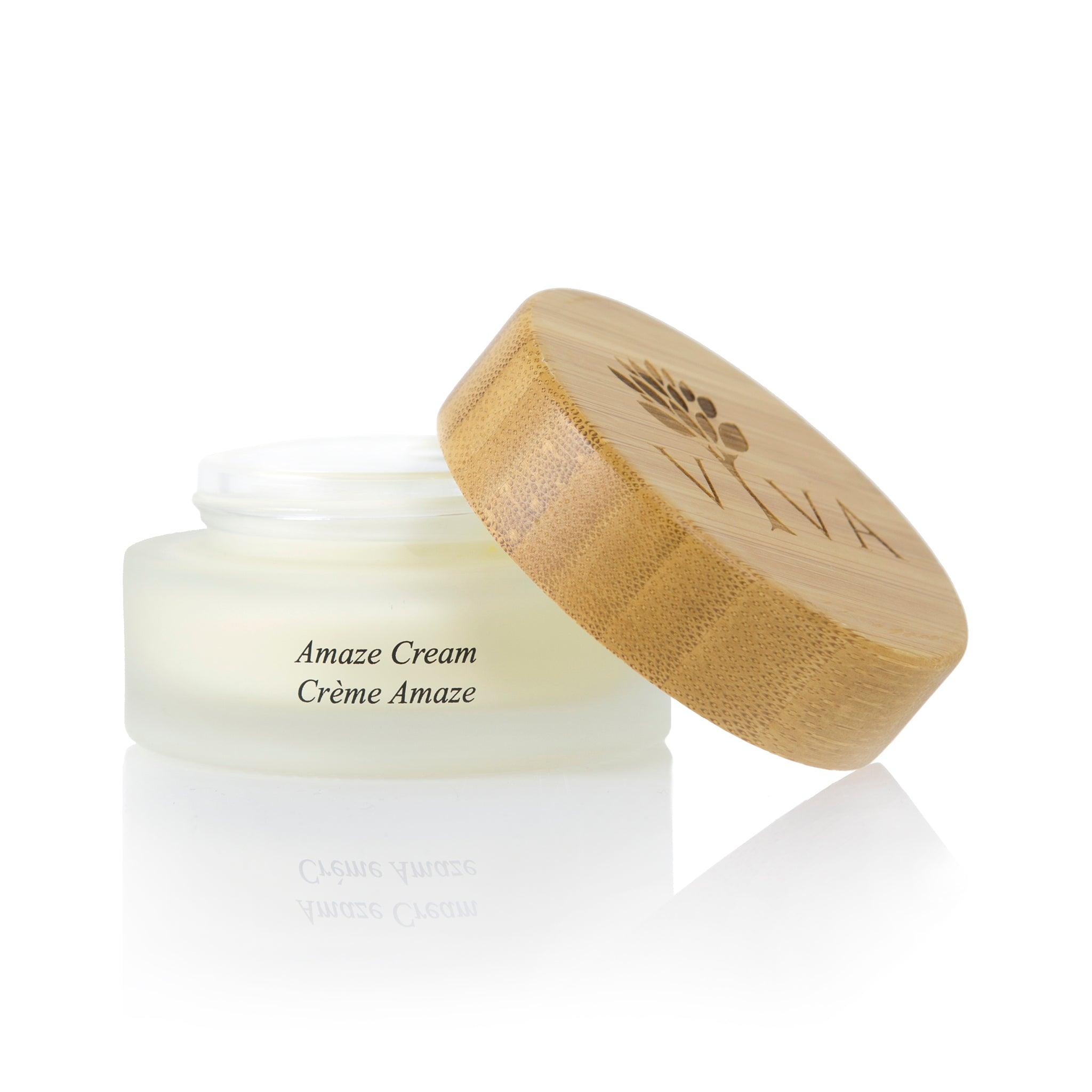 Oxidant-rich. Anti-Aging. Glow-Boosting
这款非常强效的乳霜可在几次涂抹后通过最大限度地减少细纹的出现来改善肤色。
秘诀在于所有 22 种成分,Amaze Cream 富含必需的维生素和抗氧化剂,以及芦荟、玫瑰果油和薰衣草等愈合和保湿草药。
这种特殊的配方还包括强大的植物化合物,如硫辛酸、辅酶 Q10 和透明质酸。
Amaze Cream 也是一款很棒的妆前乳。
好处:
通过紧致皮肤提高弹性
减少细纹和皱纹的出现
有助于胶原蛋白的产生
用作哑光霜,以更好地化妆
防止老化迹象
皮肤类型:
推荐用于所有皮肤类型(最适合油性或混合性皮肤)。
100% 免费折扣:
对羟基苯甲酸酯

邻苯二甲酸盐

甲醛

十二烷基硫酸钠 (SLS)

麸质

人造香料

香水

着色剂
Aqua, Caprylic/Capric Triglycerides, Emulsifying Wax NF, *Glycerin, *Helianthus Annuus (Sunflower) Seed Oil, Cetyl Alcohol, Glyceryl Monostearate, Stearic Acid, *Aloe Barbadensis Extract, *Rosa Canina Fruit Oil, Xanthan Gum, Benzyl Alcohol, Dehydroacetic Acid, Tocopherol, Dimethyl Sulfone, Sodium Hyaluronate, Thioctic Acid,* Lavandula Angustifolia (Lavender) Oil, *Citrus Nobilis (Mandarin Orange) Oil, Ubiquinone.
*Organic Ingredients
**Benzyl Alcohol is an aromatic alcohol used in a wide variety of cosmetic formulations as a preservative. It has antibacterial properties that prevents products from discoloration and rancidity. Its naturally produced in fruits, like cranberries and commonly found in teas and essential oils.
Improves elasticity by firming the skin
Reduces the appearance of fine lines and wrinkles
Assists in collagen production
Acts as a mattifying cream for better make-up application
Prevents signs of aging 
Parabens
Phthalates
Formaldehyde
Sodium lauryl sulfate (SLS)
Gluten
Artificial fragrances
Perfumes
Colorants
SKIN TYPE: Normal to Oily
SHELF LIFE: 12 months once opened
USAGE: Enough for 3 months with regular use.
Gently apply all over the face and neck after cleansing and toning.
GOOD FOR
immune-boosting
nourishing
rejuvenating
hydrating
moisture-enhancing
Key Ingredients
Thiotic Acid (Alpha Lipoic Acid)
ALA helps fight against inflammation and boots glutathione level in the skin. It also raises the levels of antioxidants assisting in protecting the skin from damage and may reduce signs of aging.
CoEnzyme Q10
Naturally produced free-radical neutralizer that delivers antioxidants to help with skin cell regeneration and balancing skin biomes.
cream comparisons
daily glow moisturizer
Discover a refreshing skin oasis with our daily moisturizer. The humectant duo of Hyaluronic Acid and Mango Butter provides hydration, rejuvenates dry skin and protects the skin from environmental and free-radical damage.

Good for repairing the skin's moisture barrier and dryness.


Skin Type: Dry to Normal
Amaze cream
A practical cream packed with rich antioxidants, for everyday use and moisture. Suitable as a primer for make-up, sunscreen or foundation applications with the added benefit of preventing signs of aging.

Good for improving moisture, fine lines and skin tone.


Skin Type: Oily to Normal
Collagen + Kojic acid radiant cream
A pioneer cream crafted with peach resin promotes collagen production and improves skin elasticity. The introduction of non-nano zinc helps protect skin from sun damage and scarring.

Good for correcting discolouration, hyperpigmentation, and dark spots.

Skin Type: Sensitive to Dry