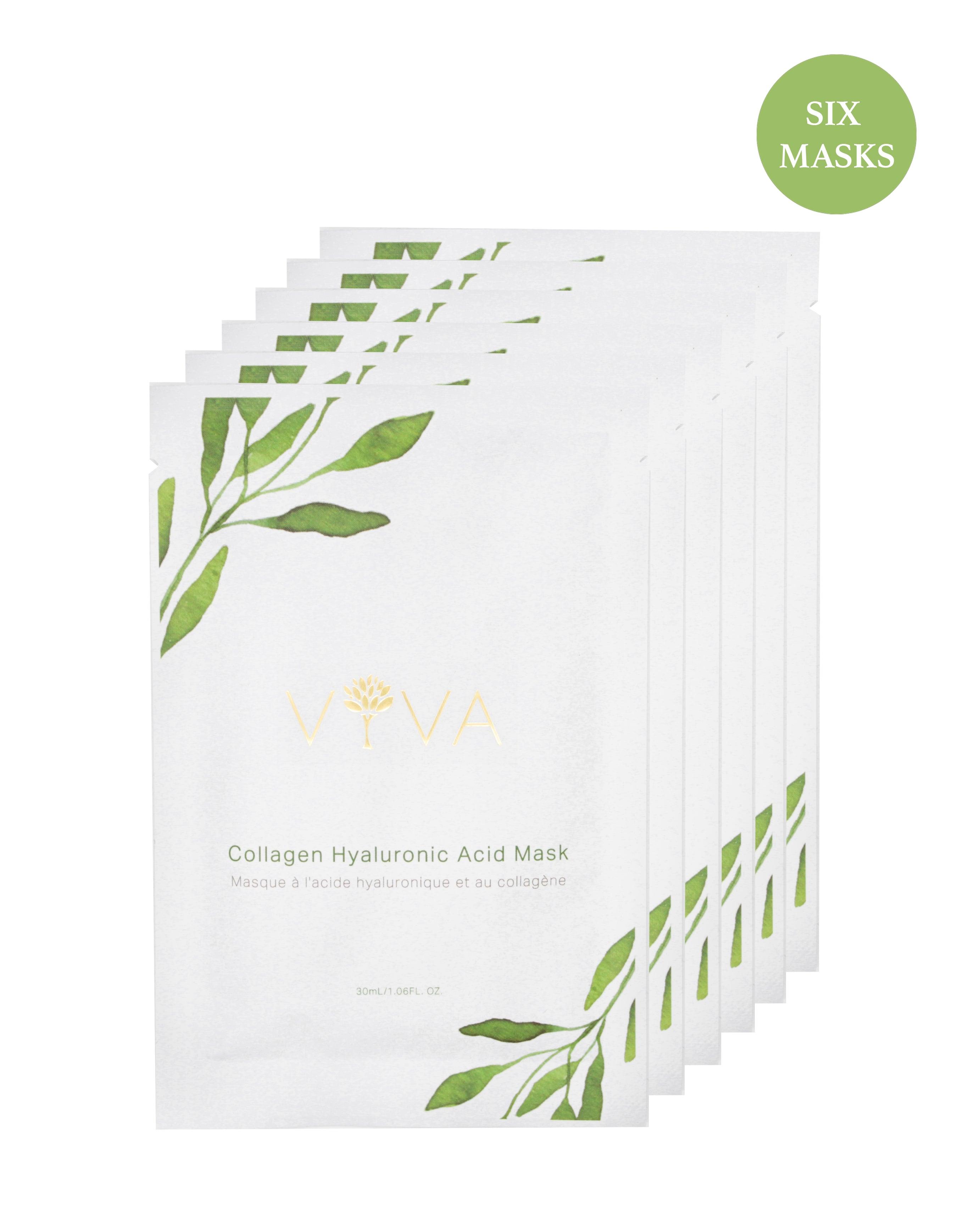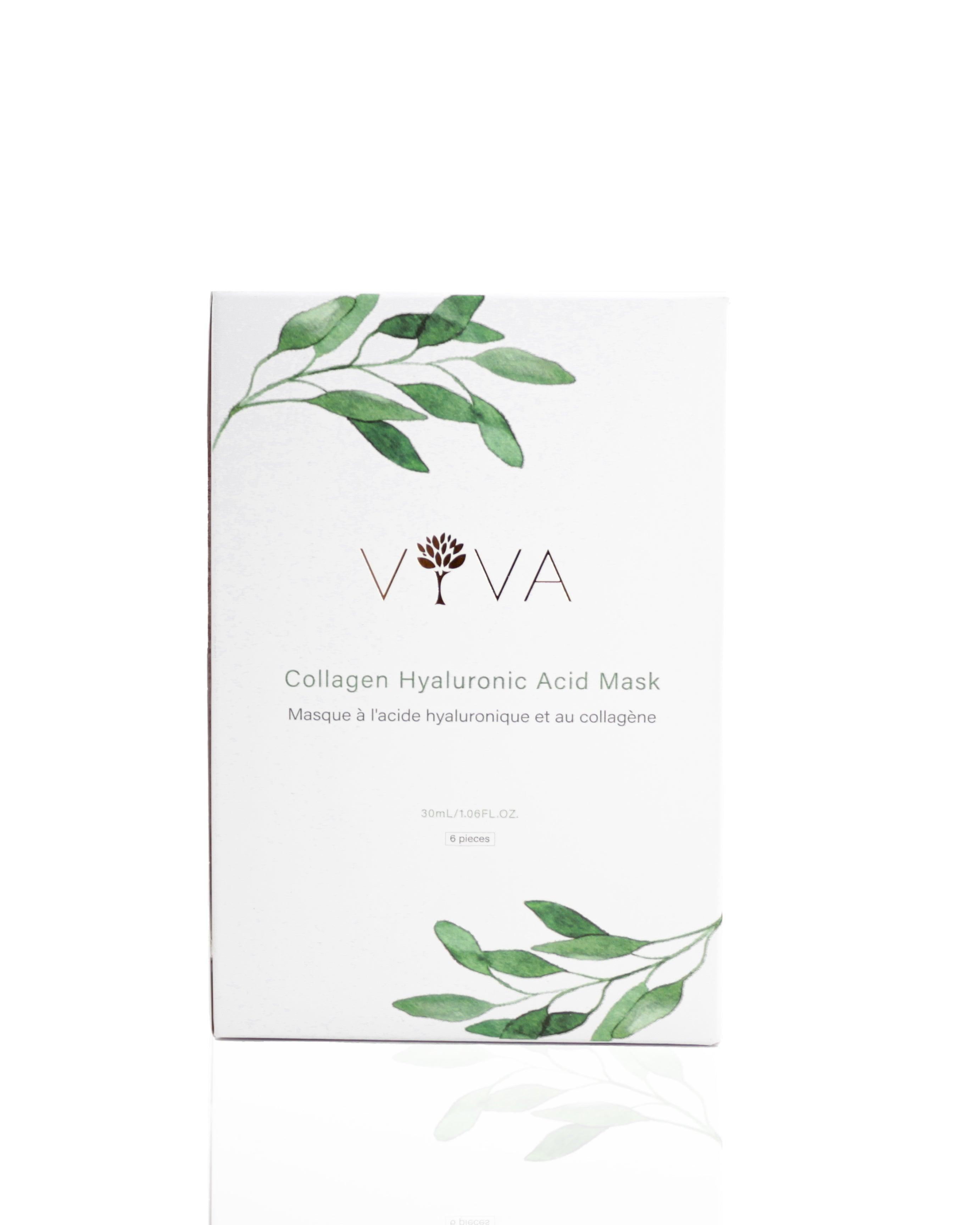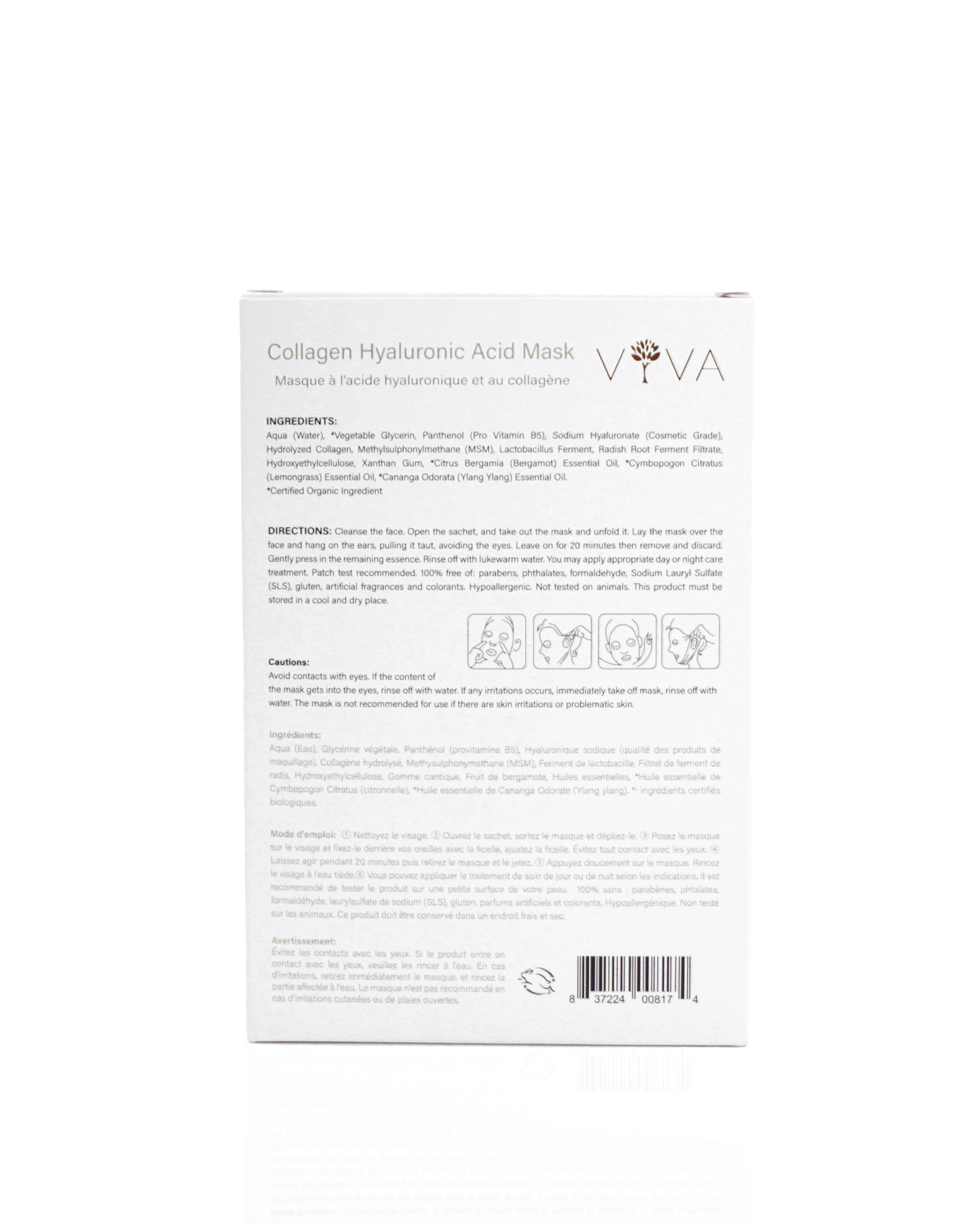 Hydrating. Line-Diminishing.
在我们的畅销面膜 Viva 的胶原蛋白透明质酸面膜中获得纯透明质酸血清强化皮肤补水的好处。不要满足于1,满足于6!这个盒子有6个口罩 浸泡在 30 毫升胶原蛋白和透明质酸精华中。

它含有纯透明质酸精华,使皮肤丰满、光滑和恢复活力, 就像海绵一样,将水分困在皮肤中,刺激胶原蛋白的产生。
 好处:
提高弹性
柔化细纹和皱纹
紧致肌肤
修复受损肌肤
深层补水并锁住水分
有助于胶原蛋白的产生
100% 免费折扣:
对羟基苯甲酸酯

邻苯二甲酸盐

甲醛

十二烷基硫酸钠 (SLS)

麸质

人造香料

香水

着色剂
Aqua, Olea Europaea (Olive) Fruit Oil, Hydroxyethylcellulose, *Aloe Barbadensis Extract, *Hamamelis Virginiana (Witch hazel) Leaf Extract, Benzyl Alcohol, Dehydroacetic Acid, Potassium Hydroxide, *Lavandula Angustifolia (Lavender) Oil, Rosmarinus Officinalis (Rosemary) Leaf Oil, Sodium Tetraborate Pentahydrate.

*Organic Ingredients
Improves elasticity by firming the skin
Reduces the appearance of fine lines and wrinkles
Assists in collagen production
Acts as a mattifying cream for better make-up application
Prevents signs of aging 
Parabens
Phthalates
Formaldehyde
Sodium lauryl sulfate (SLS)
Gluten
Artificial fragrances
Perfumes
Colorants
SHELF LIFE: 12 months once opened
Gently apply all over the face and neck after cleansing and toning.
GOOD FOR
blemish-reducing
pore-cleansing
sebum-removal
Key Ingredients
Thiotic Acid (Alpha Lipoic Acid)
ALA helps fight against inflammation and boots glutathione level in the skin. It also raises the levels of antioxidants assisting in protecting the skin from damage and may reduce signs of aging.
CoEnzyme Q10
Naturally produced free-radical neutralizer that delivers antioxidants to help with skin cell regeneration and balancing skin biomes.