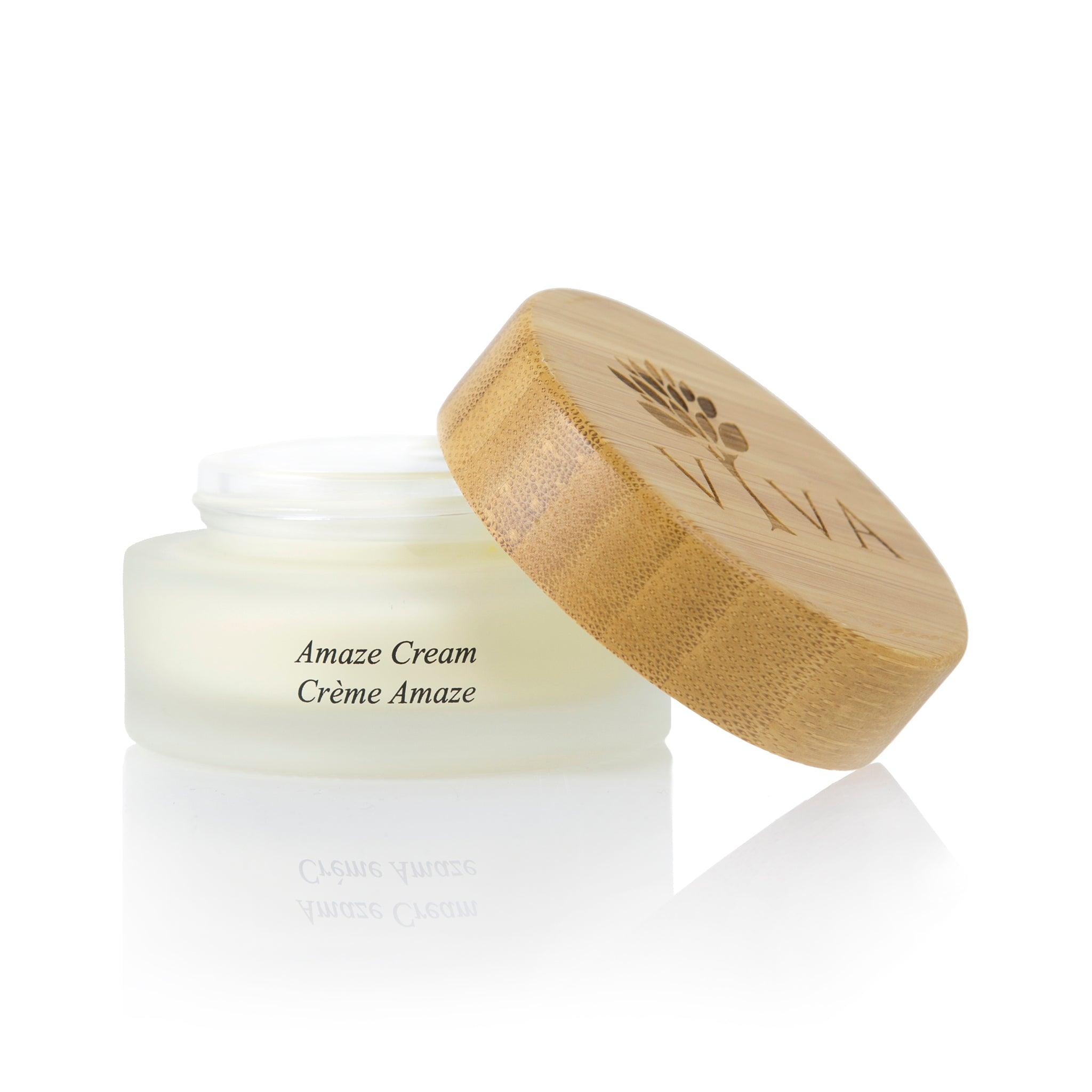 Oxidant-rich. Anti-Aging. Glow-Boosting
This remarkably powerful cream improves skin tone by minimizing the appearance of fine lines just after a few applications.
The secret is in all of the 22 ingredients, Amaze Cream is packed with essential vitamins and antioxidants, as well as healing and moisturizing herbs such as aloe vera, rosehip oil and lavender.
This special formulation also includes powerful botanical compounds such as Alpha Lipoic Acid, CoQ10 and Hyaluronic Acid.
The Amaze Cream is also a great make-up primer.
Aqua, Caprylic/Capric Triglycerides, Emulsifying Wax NF, *Glycerin, *Helianthus Annuus (Sunflower) Seed Oil, Cetyl Alcohol, Glyceryl Monostearate, Stearic Acid, *Aloe Barbadensis Extract, *Rosa Canina Fruit Oil, Xanthan Gum, Benzyl Alcohol, Dehydroacetic Acid, Tocopherol, Dimethyl Sulfone, Sodium Hyaluronate, Thioctic Acid,* Lavandula Angustifolia (Lavender) Oil, *Citrus Nobilis (Mandarin Orange) Oil, Ubiquinone.
*Organic Ingredients
**Benzyl Alcohol is an aromatic alcohol used in a wide variety of cosmetic formulations as a preservative. It has antibacterial properties that prevents products from discoloration and rancidity. Its naturally produced in fruits, like cranberries and commonly found in teas and essential oils.
Improves elasticity by firming the skin
Reduces the appearance of fine lines and wrinkles
Assists in collagen production
Acts as a mattifying cream for better make-up application
Prevents signs of aging 
Parabens
Phthalates
Formaldehyde
Sodium lauryl sulfate (SLS)
Gluten
Artificial fragrances
Perfumes
Colorants
SKIN TYPE: Normal to Oily
Gently apply all over the face and neck after cleansing and toning.
GOOD FOR
immune-boosting
nourishing
rejuvenating
hydrating
moisture-enhancing
Key Ingredients
Thiotic Acid (Alpha Lipoic Acid)
ALA helps fight against inflammation and boots glutathione level in the skin. It also raises the levels of antioxidants assisting in protecting the skin from damage and may reduce signs of aging.
CoEnzyme Q10
Naturally produced free-radical neutralizer that delivers antioxidants to help with skin cell regeneration and balancing skin biomes.
cream comparisons
daily glow moisturizer
Discover a refreshing skin oasis with our daily moisturizer. The humectant duo of Hyaluronic Acid and Mango Butter provides hydration, rejuvenates dry skin and protects the skin from environmental and free-radical damage.

Good for repairing the skin's moisture barrier and dryness.


Skin Type: Dry to Normal
Amaze cream
A practical cream packed with rich antioxidants, for everyday use and moisture. Suitable as a primer for make-up, sunscreen or foundation applications with the added benefit of preventing signs of aging.

Good for improving moisture, fine lines and skin tone.


Skin Type: Oily to Normal
Collagen + Kojic acid radiant cream
A pioneer cream crafted with peach resin promotes collagen production and improves skin elasticity. The introduction of non-nano zinc helps protect skin from sun damage and scarring.

Good for correcting discolouration, hyperpigmentation, and dark spots.

Skin Type: Sensitive to Dry