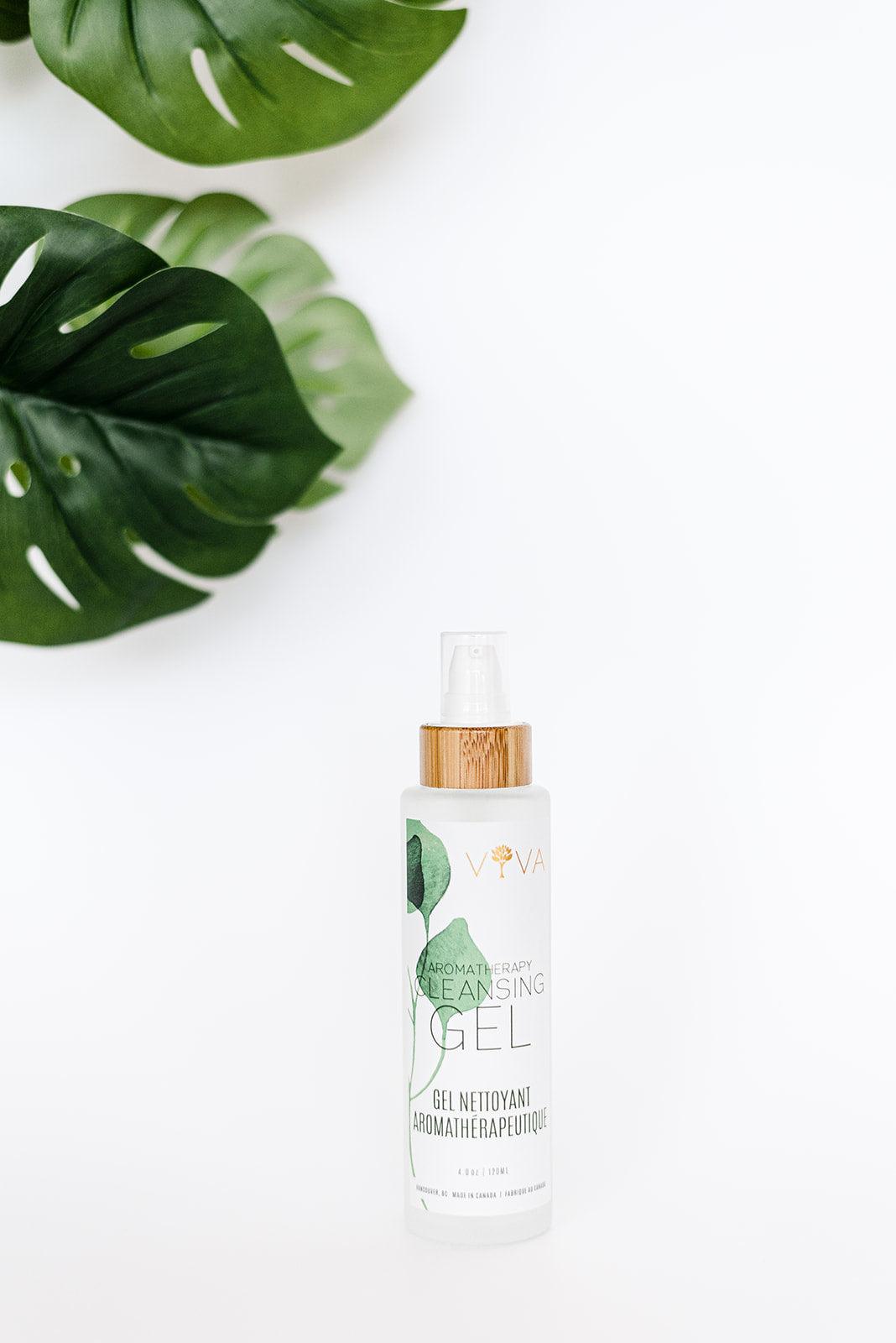 Aromatherapy Cleansing Gel
Anti-Inflammatory. Soothing. Cleanser.
The perfect combination of rosemary and lavender creates a powerful but effective natural antiseptic, helping the skin fight against harmful bacteria, improving facial and neck circulation and increasing the skin's natural radiance. 
Aqua, Castile Soap, Hydroxyethylcellulose, *Aloe Barbadensis Extract, *Hamamelis Virginiana (Witch hazel) Leaf Extract, Benzyl Alcohol, Dehydroacetic Acid, Potassium Hydroxide, *Lavandula Angustifolia (Lavender) Oil, Rosmarinus Officinalis (Rosemary) Leaf Oil
*Organic Ingredients
Deep cleanses the skin
Helps fight off bad bacteria
Improves texture of the skin
reduces sebum production 
soothes skin flare-ups, irritation and inflammation 
Removes light, non-waterproof make up 
Parabens
Phthalates
Formaldehyde
Sodium lauryl sulfate (SLS)
Gluten
Artificial fragrances
Perfumes
Colorants
SKIN TYPES: Normal, Combination, & Oily
Apply 2 - 3 pumps of the cleanser onto damp face. Then rinse off with lukewarm water.
GOOD FOR
oiliness
sebum reduction
inflammaiton
comedomes
pore size reduction
acne
Key Ingredients
Witch Hazel
It restores skin's PH levels and removes dirt, oil buildups and make-up. Its anti-inflammatory attributes work gently on pimples, reducing them in size and any signs of inflammation.

Aloe Vera Extract
the benefit of aloe vera gel for our skin is its ability to act as an anti-aging remedy. Components present in the plant of aloe vera, help improve the natural collagen production of your skin cells.
Cleanser comparisons
aromatherapy cleansing gel
A silky smooth skin-gel cleanser that replenishes skin's moisture while effectively deeply cleansing sebum, removing makeup and preventing breakouts.

Skin Types: Normal, Combination, and Oily
bio Foaming cleanser
Glides over the skin, adjust skin's PH levels and removes makeup and impurities as it leaves skin feeling smoother, softer, and comfortable.

Skin Types: Dry to Sensitive