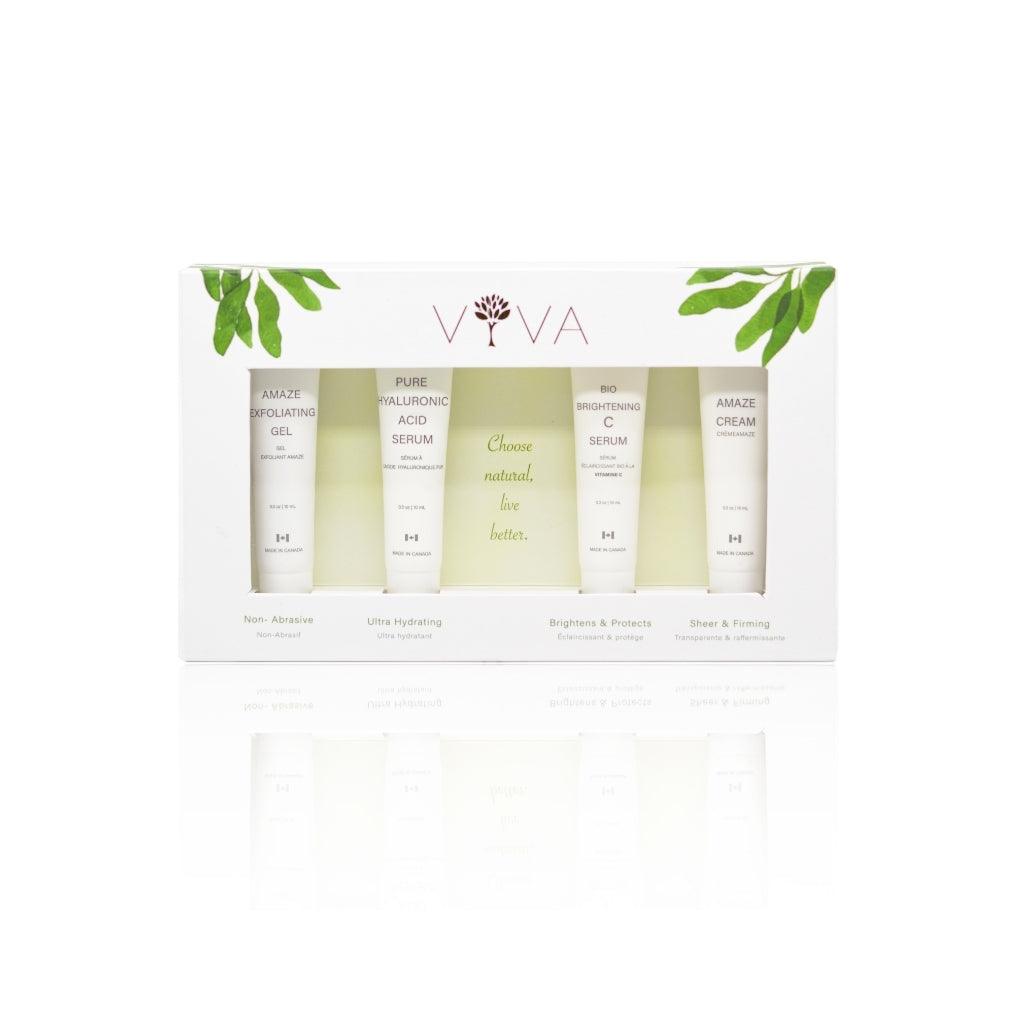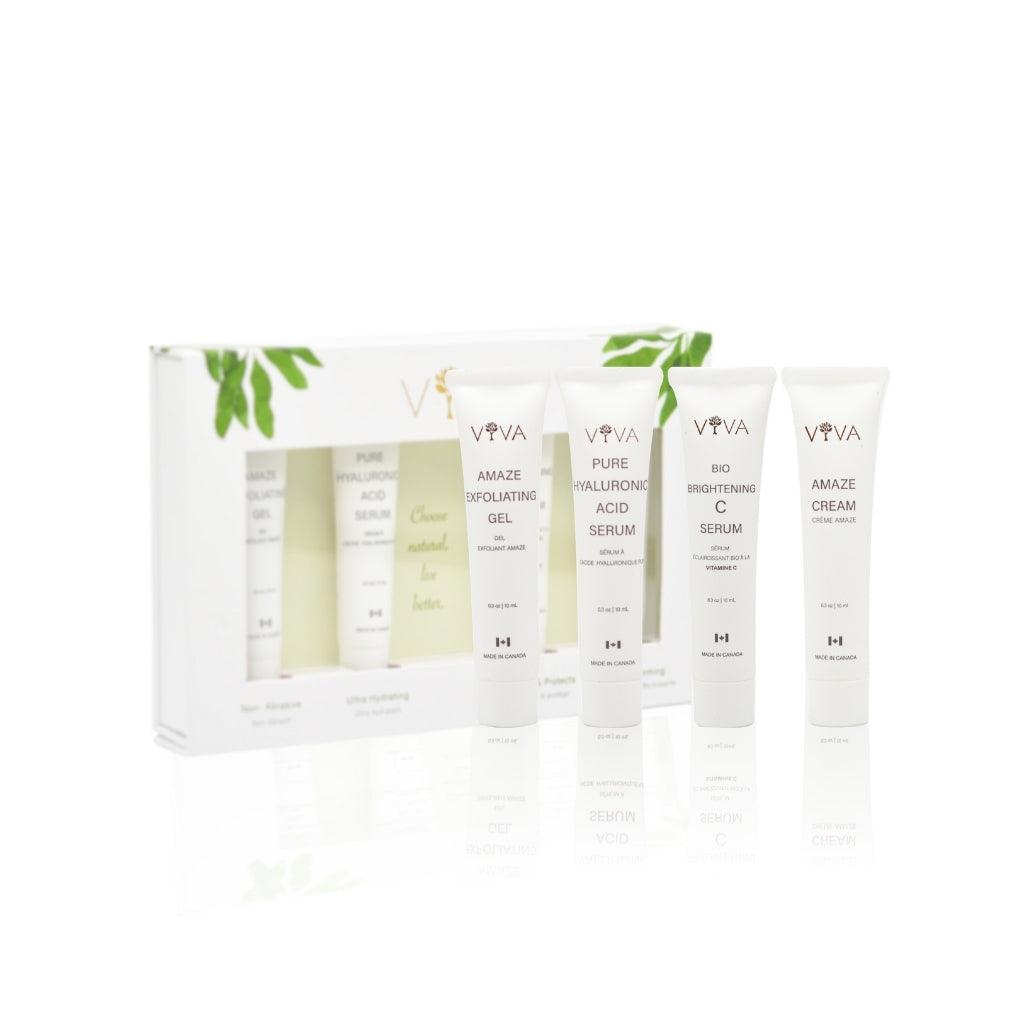 Hydrating. Line-Diminishing.
A perfect kit for exfoliating, hydrating, brightening and firming your skin, this set contains Viva's Four bestsellers.
This set contains:

Amaze Exfoliating Gel (10ml)

Pure Hyaluronic Acid Serum (10ml)

Bio Brightening C Serum (10ml)

Amaze Cream (10ml)
Amaze Exfoliating Gel:  A non-abrasive exfoliating gel that uses your natural body heat to lift and eliminate dead skin, forming small beads when rubbed in a circular motion.
Pure Hyaluronic Acid Serum: This lightweight vegan hyaluronic serum retains 1000 times its water weight. Keeping our skin plumped and preventing irritation from dehydration. Best for sensitive skin. 
Bio Brightening C Serum: A potent vitamin C serum that is packed with antioxidants, nutrients, and plant extracts to smooth the uneven texture, brighten up the complexion and support the look of firmness and elasticity.
Amaze Cream: A special formulation that includes botanical compounds including Alpha Lipoic Acid, CoQ10, and Hyaluronic Acid. This powerful cream hydrates the skin, improves elasticity and deep wrinkles, and assists in collagen production.
Aqua, Olea Europaea (Olive) Fruit Oil, Hydroxyethylcellulose, *Aloe Barbadensis Extract, *Hamamelis Virginiana (Witch hazel) Leaf Extract, Benzyl Alcohol, Dehydroacetic Acid, Potassium Hydroxide, *Lavandula Angustifolia (Lavender) Oil, Rosmarinus Officinalis (Rosemary) Leaf Oil, Sodium Tetraborate Pentahydrate.

*Organic Ingredients
Improves elasticity by firming the skin
Reduces the appearance of fine lines and wrinkles
Assists in collagen production
Acts as a mattifying cream for better make-up application
Prevents signs of aging 
Parabens
Phthalates
Formaldehyde
Sodium lauryl sulfate (SLS)
Gluten
Artificial fragrances
Perfumes
Colorants
SHELF LIFE: 12 months once opened
Gently apply all over the face and neck after cleansing and toning.
GOOD FOR
blemish-reducing
pore-cleansing
sebum-removal
Key Ingredients
Thiotic Acid (Alpha Lipoic Acid)
ALA helps fight against inflammation and boots glutathione level in the skin. It also raises the levels of antioxidants assisting in protecting the skin from damage and may reduce signs of aging.
CoEnzyme Q10
Naturally produced free-radical neutralizer that delivers antioxidants to help with skin cell regeneration and balancing skin biomes.